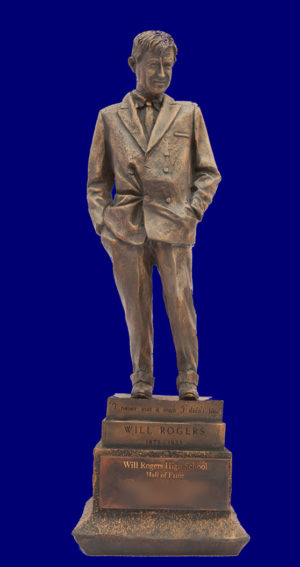 2018 HALL OF FAME
INDUCTION CEREMONY
Friday, April 6, 2018
Support our school as we induct five Ropers into the prestigious Will Rogers High School Hall of Fame. See your friends, renew acquaintances, and visit with the honorees.
Schedule
9:00 a.m. Program at the Rogers High School Auditorium, open to the public and free. Reserved seating for alumni down front.
6:00 p.m. Gala Reception and Dinner at the Renaissance Hotel, 6808 S 107th E Ave, Tulsa, OK 74133 (on 71st between Mingo and Garnett)
Tickets
Online Ticket Sales will be available soon! Tickets may also be purchased by mailing a check (payable to WRHSCF) to the following address:
Will Rogers High School Community Foundation
Attn: Treasurer
P.O. Box 52845
Tulsa, OK 74152
There are no physical tickets. Your registration will be waiting at check-in. Online sales will end March 23.
Ticket Options
$75 per person
$750 for a table of 10 (all tables seat 10)
Buy your tickets now, and continue to inspire Will Rogers students that they can do great things too!
Special Offer
For $25 you may purchase a "Hall of Fame Special Drink" of your choice, served in a commemorative stemless wine glass, with gold etching of the Will Rogers tower entrance. Only available here.
Each Special Drink purchase gives you a chance to win this masterful original painting donated by Hall of Fame member Mikel Donahue.

2018 Hall of Fame Inductees
Charles Bell, class of '53, Artist, Photorealist
James Frazier, class of '59, Attorney, Democratic National Committee, Educator
Bill Hinkle class of '65, Advertising Creator, Marketer, Educator
David James class of '58, Champion Wrestler, Gastroenterologist, Researcher
Barbara Thompson class of '57, Educator, Honorary Consul of France
Accommodations
The Renaissance is holding a block of rooms for us at a $99 per night rate, on a first-come, first-served basis. Ask for Will Rogers High School Hall of Fame 2018 Rooms–C. Deadline to reserve rooms at this rate is March 9.